Poems
Of Death And A Banana Skin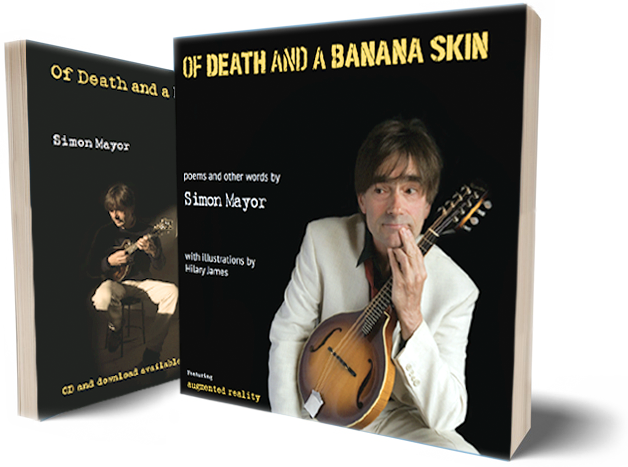 The first anthology of poems and anecdotes, lavishly illustrated by Hilary James and with Augmented Reality, is out!

The synopsis is below but you can read and hear some poems, see double page spreads, and watch animated renderings of the digital artwork at SimonMayor.com
Buy the book at the Acoustics Records website
---
A familiar name in the rarified atmosphere of planet mandolin, maestro Mayor swaps plectrum for pen in this first anthology of words. In verse and prose, and with wit, warmth, poignancy and intelligence, Mayor offers down-to-earth observations of his native and adopted haunts, laced with preposterous accounts of the haps and mishaps of his musical profession. The sticks and stones of the Yorkshire Dales, the delights of Reading, the quirks of Hay-on-Wye, the castles of Cleethorpes (sandy ones), noisy nights and country kissing all covered with perspicacity and humour!