Downloads – Simon Mayor albums
New Celtic Mandolin
Simon Mayor brings his inimitable brand of mandolin-wizardry to this essential collection of music from every corner of the Celtic World. Beautiful slow airs and lively dance tunes featuring mandolin, mandola, mandocello and mandobass. With guests Frank Kilkelly (guitar), Beryl Marriott (piano) and Hilary James (mandobass/vocals). Many of the tunes on this CD are also contained in Simon Mayor's New Celtic Mandolin (book).
PRESS REVIEWS
'A stunning album… the beauty of the slow airs along with the faster sets beggars belief'
Rock 'n' Reel
'Musicien-virtuose Simon Mayor surfe avec une telle maestria que chaque evocation est un veritable moment de jubilation.'
Trad Mag (France)
A blend of Simon Mayor's original tunes and specially arranged classical pieces including Minute Waltz (Chopin), Hungarian Dance No. 2 (Brahms), Girl with the Flaxen Hair (Debussy), Maple Leaf Rag (Scott Joplin) – and more – showcase Simon's peerless mandolin artistry.
PRESS REVIEWS
'A master musician at his absolute best.'
The Living Tradition
'Each piece is a joy.'  R2 Magazine * * * *
'Music that will touch the ears of the finest connoisseur. Original interpretations, full of colour and emotion'
Milano Finanza (Italy's Financial Times)
'Played exquisitely' BBC Radio 2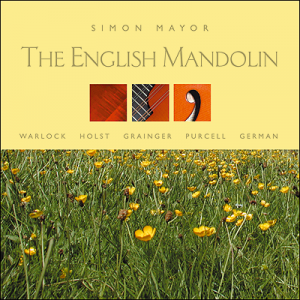 New settings and adaptations of classical and traditional pieces for mandolin ensemble (mandolins, mandolas and mandocellos). Includes works by Holst, Warlock, Purcell, Grainger and German.
PRESS REVIEWS
'This is a delight, Simon Mayor's mandolin playing is without peer' Folk Roots
'Sheer musical brilliance' BBC World Service  
DOUBLE ALBUM!
A special 25th anniversary double album reissue of Simon Mayor's first two solo albums The Mandolin Album (1990) and The Second Mandolin Album (1991) – remastered and with comprehensive sleevenotes. Sparkling originals and inventive adaptations of the classics from one of the world's leading mandolin virtuosos. Featuring the mandolin, mandola and mandocello. Tracks include Vivaldi's Concerto for Mandolin and Concerto for Two Mandolins, Handel's The Arrival of the Queen of Sheba, and Simon's own much requested The Buttermere Waltz.
PRESS REVIEWS
'A remarkable mandolin player… displaying a dazzling fluidity, Mayor is also master of tonal variations. Indeed, of the two discs, the first is certainly impressive, but it's the second that really captures all the emotions.'
R2 Magazine * * * *
' …further evidence, as if it was needed, that Mayor remains one of the world's most accomplished mandolinists.' Acoustic Magazine
THE MANDOLIN ALBUM
'Album of the week' BBC Radio 2
'His success may be judged by the wit and invention of his arrangement for Vivaldi's Concerto or his own 'Maple Flames.' Q Magazine
'The arrangements are uplifting and the album is a joy' Daily Telegraph (UK)
'Sheer joy' Folk Roots
THE SECOND MANDOLIN ALBUM
'Simply a masterpiece' Tower Records Magazine
'Hot fingered mandolin virtuoso' Cosmopolitan
'Refreshing and uplifting' Vox 'This is a wonderful release from Simon Mayor. He is an amazing player…' Mandozine
'Outstanding musicianship. A depth of feeling that is rare to find' Folk Roots
Music From A Small Island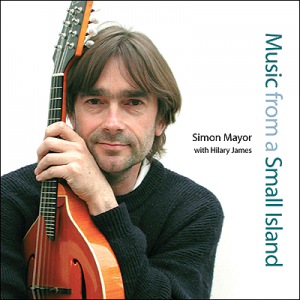 Simon Mayor takes a musical journey from Dorset via his native Yorkshire to Scotland. This is Siimon's first album not to include the word 'mandolin' in the title. While the mandolin family features strongly his fiddle and guitar playing come to the fore in a collection of Scottish folk tunes.
PRESS REVIEWS
'…folk record of the year… evocative virtuosity and (from Hilary James) faultless singing'
The Daily Telegraph
'… stunning performances and arrangements. Mayor's artistry is breathtaking.'
Rock 'n' Reel
'This is the kind of recording that were it a piece of art it would happily hang alongside a Picasso.'
Folking.com
Many unusual and beautiful carols and seasonal instrumentals for Halloween, Fireworks, Christmas and Shrove Tuesday. Features Russian style massed mandolins (Christmas Candle), Celtic inspired arrangements (I Saw Three Ships), highly evocative Basque and Provencal carols, music from Handel's 'Royal Fireworks' and Simon's own compositions. Stunning contributions from guests Alan Whetton on soprano saxophone and Brendan Power's harmonica complete this superb album.
PRESS REVIEWS
'The most beautiful bell-like mandolin sound I have ever heard' Living Tradition
'Record Of The Week' BBC World Service