Workshops
Simon has never had time to commit to individual tuition but has put considerable energy into group mandolin workshops.
He has taught at numerous international festivals including the Classical Mandolin Society of America, the Goderich Celtic Roots Festival (Ontario, Canada) and the International Guitar Symposium (Iserlohn, Germany). He has also taught regularly in the UK at The National Centre For Folk Arts (Halsway Manor, Somerset) and at his own Mandolin Retreat weekends.
Mandolin & Voice Retreats
Kenwood Hall Hotel, Sheffield. 5th-7th October 2018
Simon's next scheduled mandolin workshop weekend is a return visit to what is fast becoming an annual event at the very comfortable Kenwood Hall Hotel in Sheffield. As last year, Hilary James will be running a concurrent voice workshop and we'll combine the singers and mandolinists in the last session to form a massed choir and mandolin orchestra for a few pieces.
Please follow this link to Hilary's site if you're a singer.
Booking
If you'd like to join please complete the BOOKING FORM.
If you'd like to be kept informed of future mandolin workshops please join the newsletter using the form below on this page, or drop me an email using the contact form.
A few testimonials…
Please scroll down for a full description of the weekend; first, here are some comments from previous Mandolin Retreats
'The weekend surpassed my hopes and was truly motivating, highly instructive and huge fun. It was great to see such a mix of abilities all able to play together. Everyone was so supportive and encouraging.'
Nick Reiter (UK)
'The best Mandolin Retreat I've ever attended… I'm still reminiscing and I can't wait to get home and try some of the things I learned from you. Thank you for sharing your knowledge and  your love of music with us.'
Ken Brown (California, USA)
'I appreciate all the time and trouble you took preparing for the weekend and guiding the sessions with your playing, advice and invaluable tuition on technique.'
Les Ward (UK)
'It was a lovely weekend and so nice to do so much playing and be surrounded by mandolins! Your teaching was great, I found it really helpful and just the right level of instruction and playing and it was great to have the parts for the music in advance – a lovely selection of pieces.'
Diana Buckle (UK)
---
Phil Nixon, an experienced bass guitarist, talks with Bill Buckley on Radio Berkshire about becoming a beginner mandolinist at Simon's Mandolin Retreat.
Phil Nixon interview (4 minutes)
The videos…
Highlights of the weekend at Kenwood Hall 2016
---
Mandolin & Voice weekend at Halsway Manor 2017
---
What will I learn?
My preference is to teach through tunes, discussing matters of technique as they crop up. I'll be covering basic right and left hand positions, tremolo, position shifts, playing in closed positions, use of the plectrum and tone production, improvisation, and no doubt much more. My aim is to de-mystify the mandolin as much as possible, whether that be finding your way around the neck, or understanding some of that dreaded music theory!
The weekend will also be a great opportunity to meet like-minded people and to learn to play as an ensemble. So while some tunes will be melody only, some will be arranged in parts specifically for ensemble playing; I always try to make one part very simple so the less experienced players will still be able to contribute.
Music (in both standard notation and tablature) and MP3 sample files will be sent out well in advance so you can acquaint yourself with the tunes. Don't in any way think that you need to learn them all note-perfect before you come. Above all, the weekend is meant to be a fun, relaxing time, and the amount of preparation you put in is entirely up to you – there will be no exam! Having said that, at other workshops I've hosted we've all been delighted at what a great sounding mandolin orchestra we've had by the Sunday afternoon.
The approach will not be geared to any one musical genre; I'll be trying to make it as general as possible. And by the way, I'm very happy for you to make audio recordings of the sessions.
How good do I have to be to attend?
Ideally, the minimum requirements would be a reasonable knowledge of how to read either mandolin tablature (easy) or standard music notation (a steeper learning curve), and the ability to get from start to finish of a simple tune without stumbles. Many people who come are more experienced but beginners have sometimes attended and have risen to the occasion, buoyed by the group experience.
The Venue
Kenwood Hall is a 4-star Hotel just south of Sheffield city centre, set in beautiful, quiet grounds in the leafy suberb of Nether Edge.
The hotel provides full board and coffee, tea, soft drinks and snacks during the day. The kitchen will cater for special dietary needs (let them know in advance). There is full disabled access.
Other instruments?
If you also play any other instruments from the mandolin family (mandola, mandocello, octave mandolin, luito cantabile – or even mandobass) please bring them too. The ensemble playing in previous workshops has benefited hugely from the inclusion of some of the mandolin's lower-pitched relatives.
Please contact me in advance if you'd like the music in bass clef or transposing tablature.
What do I need to bring?
Ap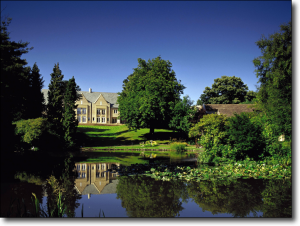 art from your mandolin and a music stand, it would be a good idea to carry some spare strings and plectrums.
Simon Mayor & Hilary James – Saturday night concert
Hilary James and I will be playing a public concert on the Saturday evening at the hotel. Entrance is free to those attending the workshop.
Bookings & fee
The fee for the weekend is £415.
This includes all tuition, entrance to the Saturday evening 'Simon Mayor & Hilary James' concert, full board from Friday evening to Sunday afternoon (breakfast, buffet lunch, three course evening meal, unlimited coffee, tea, soft drinks and snacks during the day) and use of the hotel's spa facilities.
Please use the BOOKING FORM to secure your place. We ask for a £240 non-refundable deposit and the balance one month ahead of the event.
Bringing a friend?
If you'll be attending as a couple and sharing a room and would like a special rate, or if you'd like to bring a spouse or friend who will be sharing your room but not attending the course, or if you have any other questions please use the contact form.